Creative agencies
The partner for creative agencies
As photographers, graphic designers, or advertising agencies, you have many different assignments and clients. It is very important to have your administration in order. Deadlines fly around your ears and the feedback rounds don't seem to stop. Fortunately, a tool like CoManage can help. Not only is your administration in order, you also have good insight into your hours worked and all deadlines for your projects. Working together for different clients is not a problem either, because your tasks per project are very clear. You can focus on the creative and use CoManage as a partner for the 'boring' work.
digital administration invoicing, customer management, ...

professional offers flawless and fast

time tracking your hours effectively

Manage purchase invoices and other costs

7/7 support every day from 9h till 22.30h

customer information always with you on the road with the free app
Google reviews
Ik ben zeer tevreden over Comanage. Aangezien mn firma niet zo groot is qua omzet kan ik bij vragen of problemen altijd rekenen op jullie support. Waarvoor dank! Met vriendelijke groeten, Clean Complete
More...
Less...
Clean Complete
Erg tevreden met het programma en de snelle en goede support!
More...
Less...
Corné Hoek
Ik stootte per toeval op CoManage op een zaterdag middag, toen ik op zoek was naar het ideale programma voor onze nieuw opgerichte vennootschap. Toen ik de zogenaamde "chat support" wilde uittesten, besefte ik dat er werkelijk iemand van support achter het scherm zat om mijn bijkomende vragen te beantwoorden. Bij andere software-ontwikkelaars had ik dit nog niet eerder gezien, vooral niet in het weekend. Waar ik ook ben, en om het even welk moment van de dag, kan ik hulp vragen en krijg ik meteen antwoord of een oplossing. CoManage biedt exact hetgeen ik nodig heb om de kernactiviteiten van mijn vennootschap te vertalen naar concrete handelingen. het is zeer intuïtief en gebruiksvriendelijk.
Ik had geen betere keuze kunnen maken!
Op vandaag gebruik ik tijdsregistratie, Project Management, facturatie, offertes en kosten. Perfect voor een startend bedrijf in de zakelijke dienstverlening.
More...
Less...
Julie Alloncius
Discover the advantages for creative agencies
Read below why CoManage is the favorite
administration program for many creative agencies
Send out quotes quickly
If you are dealing with many and short assignments, it is convenient if you can send out quotations quickly and easily. Ten minutes after your request, you can already send your professional quotation. The customer can easily approve it online.
Your tasks are clear
One person does the customer contact and the other performs the creative part. This is often how it goes in creative agencies. It is very convenient that in CoManage you can each have your own tasks per project and thus know exactly what you are working on or what is finished.
Track hours including travel time
Sometimes you have to travel to the customer or a location. That too costs time and should be included in your timesheets. Hours worked are also important to keep track of. If not for invoicing, then for estimating the next project.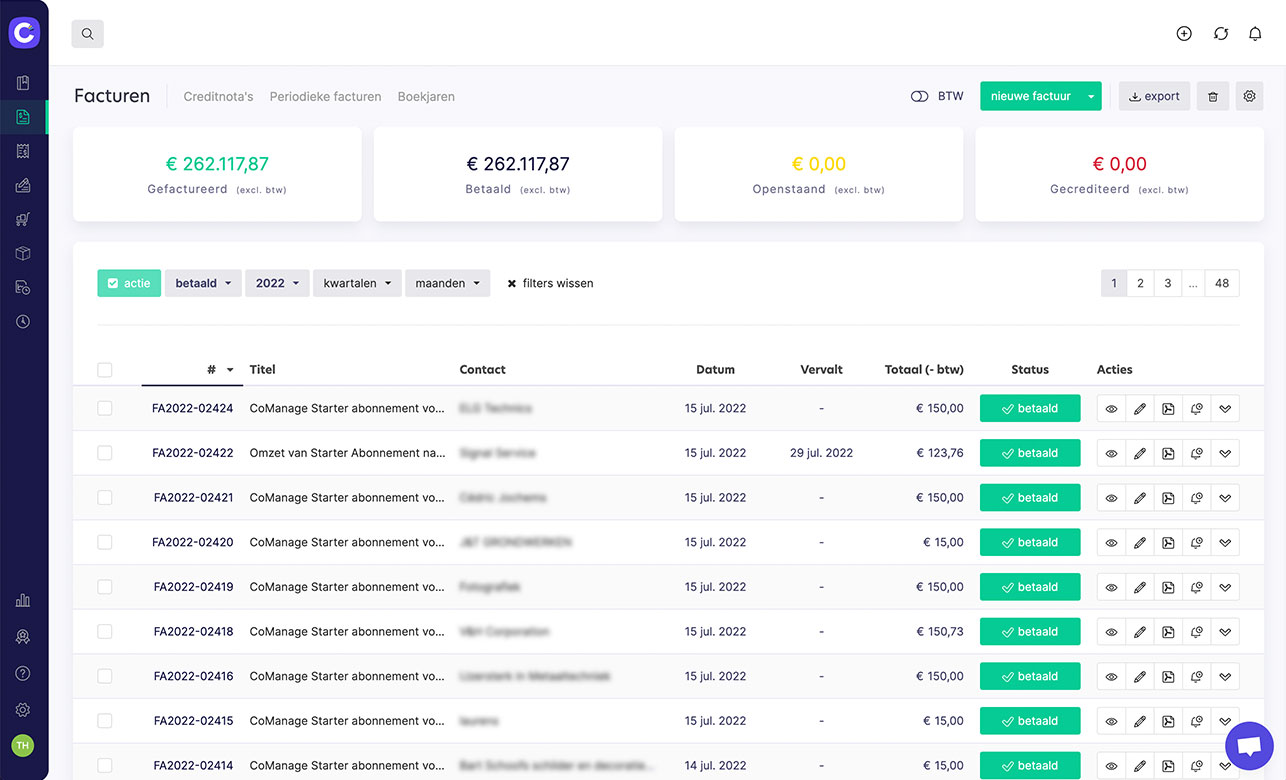 Functionalities for creative agencies
With CoManage you have a collection of tools which make your live easier as a creative agency:
Blog posts for creative agencies